Being a nature enthusiast, Ukoke cordless tree pruning with an 8.3-inch saw blade is crucial for garden maintenance. It's easily operated without oil consumption and functions as a regular tree trimmer. All-in-one gardening tool feature that maintains the holistic health of your trees and plants. It prevents decaying, infected, or diseased parts from spreading to healthy branches and permits sunshine and airflow to access naturally.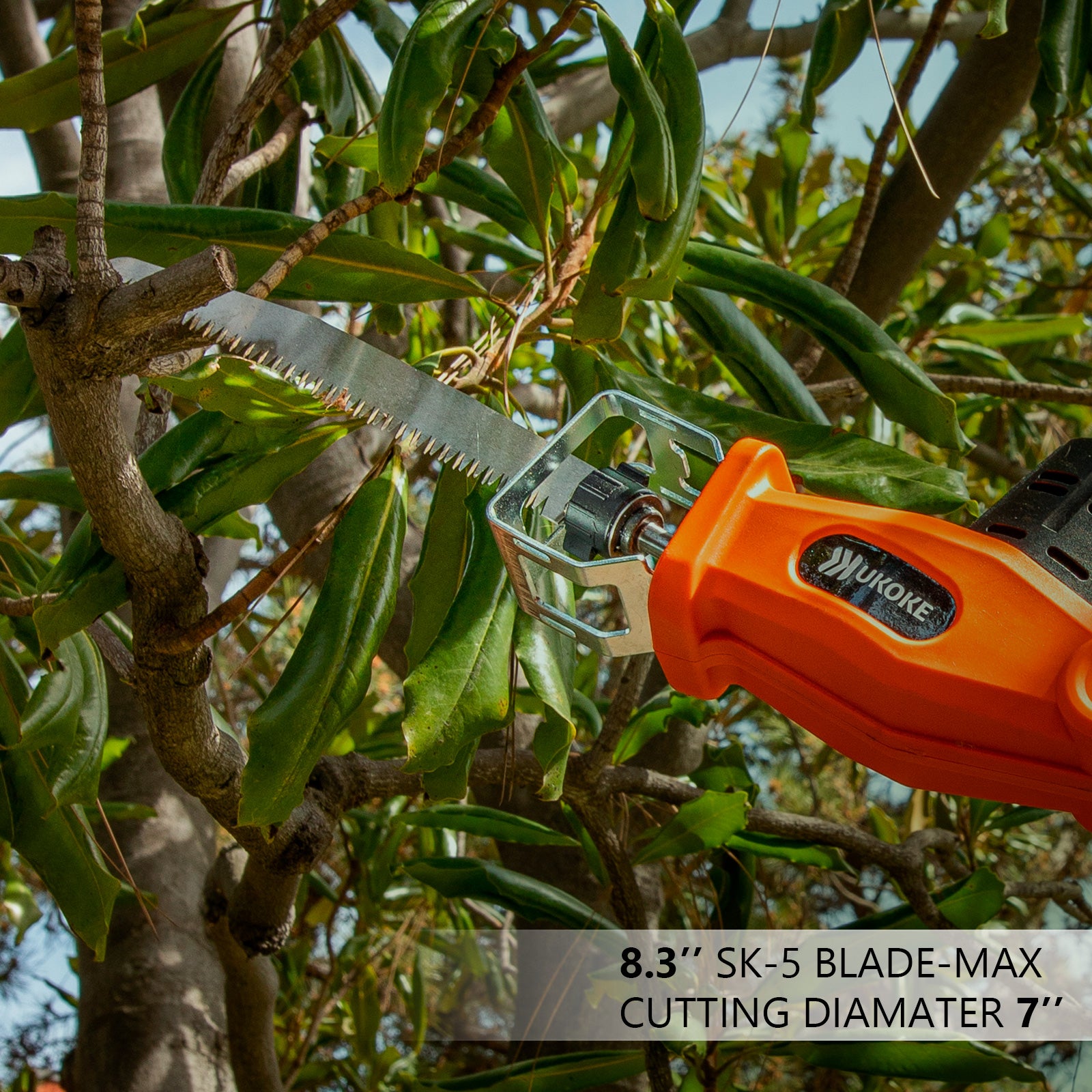 Key features
Sharp Asian Blades
The 8.3-inch sharp blades are designed specifically for cutting timber and tree branches, called SK-5 blades from Japan. These blades are sharpened and perform the sturdy tasks of trimming the garden excellently, and they are also difficult to destroy.
Portable and Comfortable Grip
This versatile tool has a pleasant grip and can be used for cutting, pruning, and trimming. The front handles are padded for extra stiffness, and the double handles provide multiple holding positions. A simple shoulder strap makes this 7 lb. tool easy to carry, eliminating the need for fatigue. The mechanical lubrication and motor check window are helpful for a secure hold and an anti-slip front.
Robust Battery
 The high-energy Lithium-ion battery has a strong power flow that doesn't fade. All 20V lithium-ion tools are entirely compatible with the battery's 20V voltage. With the 2.0Ah battery capacity, you can conveniently cut trees while reducing gas noises and eradicating pollutants. You currently possess the ideal gardening care!
Quicker Cutting
Fast cutting is possible with an 8000 min load speed and a 2500 rpm driving gear rotation. With its 60° rotating handle, you can quickly and easily snag any hidden branches.
Speedy Charging
A 3-hour well-charge allows you to use the tool for hours without having to visit the supply opening. Before charging, make sure the battery is completely discharged.